Weekend Round Up 12th 13th September
COVID UPDATE
In light of the Government's latest restrictions (from Monday 14th Sept) it is worth setting out the position as it relates to our club as stated by our governing body:- "British Triathlon are pleased to confirm that swim, bike and run activity and events in England are exempt from the new guidelines". Questions may arise as to why this decision has been made over other groups. BTF clubs are required to have a Covid officer and operate a Track and Trace system so are considered to be operating responsibility. Therefore as members start to return to the race circuit, or meet up for training, please remember and abide by "Hands, Face, Space".
The Covid situation is fluid with the rapid increase in cases this week. Your club are planning for the future, but preparing for the worst, a statement illustrated by the Council's decision not to proceed with the Worthing 10k which was just 2 weeks away; a race some of our members had entered.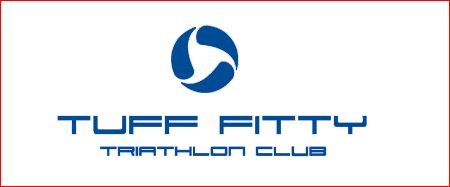 What defines Tuff Fitty? Our name? Our activities? It is definitely the people. As the race circuit resumed this weekend over 30 of our members were involved. This generally meant back to very early alarm calls, but to be met in the dark by fellow Socially Distanced Tuffs lifted the darkness, with banter, camaraderie and er, mickey taking. This very much highlighted what we have all missed over the last 6 months.
This weekend also saw Nikki Gatland & Jon Cassell's mega challenge – the Swim out (and back) to Rampion Windfarm. Their adventure is being publsihed in a separate article-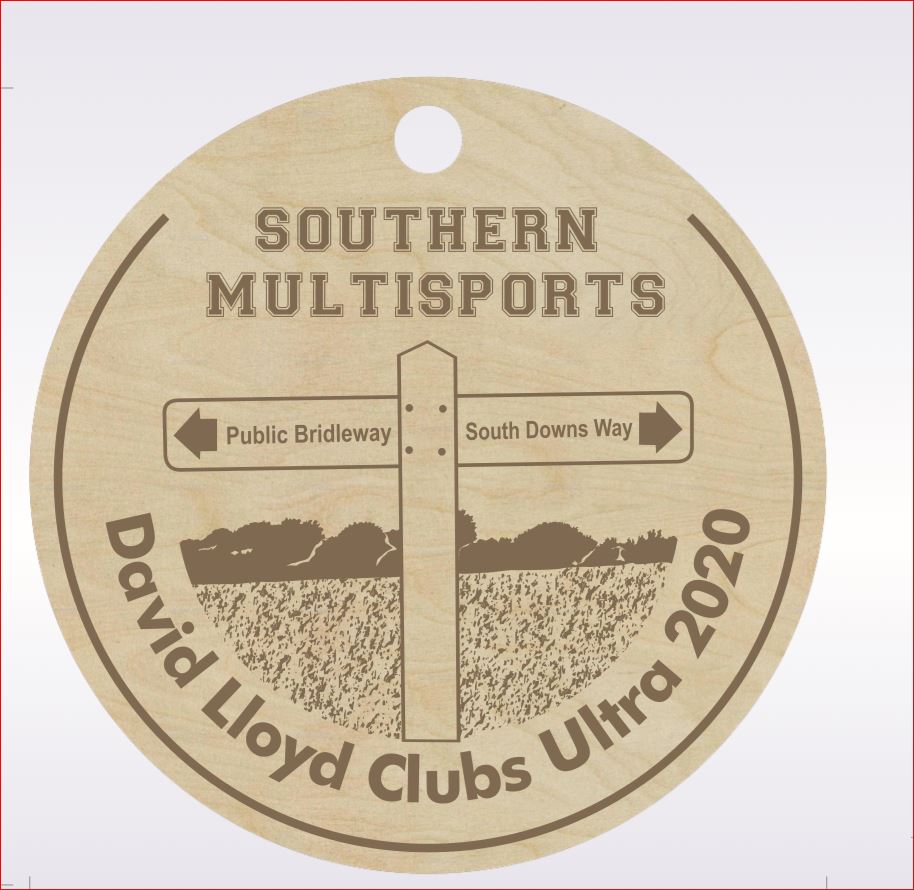 DAVID LLOYD ULTRA MARATHON
Organised by our very own Jason Rae at Southern Multisports, the event catered for everyone with a 41 mile ultra race, a 30 miler and Relay; teams of four each covering circa 10 miles each. Starting from David Lloyd Centre at Brighton Marina the route and first relay leg was a climb up to Ditchling Beacon. This is where the 30 mile runners started, amongst which was our very own Geordie, Paul Atkinson. Make no mistake each 10 mile leg was a toughie, so for Paul to complete the 30 miler was a great achievement. Ditchling to Truleigh Hill then Kithurst Hill saw checkpoints 2, 3 & 4 before the finish at David Lloyd Durrington. Jay McCardle was equally impressive, marshalling runners out of the Marina, but then proceeded to run the course.
Face masks were the order of the day at checkpoints, gels and sanitisers in rucsacs with runners set off in small groups. Clive Harvey & Catharine Western were in the first group off, climbing up from the Marina and vowed the fact that they were a leading a race had to go in the report! They held this almost up to the Amex Stadium until a couple of Gazelle like runners went past.
Prior to the race there was many furrowed brows as to the logistics as to where to leave cars along the route but the majority of Tuffs followed the course and the cheers and the game of 'Spot the Tuffs' up on the peaks created a great atmosphere.
James Togneri was in a team that romped home 2nd relay team overall, a great result. The good news continued as the fourth relay team comprised Gavin Sewell, Richard Hobbs, Matt Whittaker and Ade Willard. 5th team home included Chris Sloggett, Debra and Matthieu Cauchy-Duval.
Tuff Fitty Terrors were 7th with Simon Thistlethwaite, Andy Ward, Olly Sampson, and Alex Webb. The Captain's Crew were 8th with Pete Littleboy, Ollie Thomas, Jon Babbage, & Lee Bishop. 11th and second mixed team, saw Ian Moore, Leigh Moore, Dom Amey & Tiff Orton finish just ahead of Four Fitty Fatty Fellas comprising Clive Harvey, Trevor Harvey, Glenn Parisi and Murray Hodge. Third position in the ladies relay went to Catharine Western, Becky Lintott-Clarke, Clare Worgan and Shelley Babbage.
There was much conversation and banter as to which leg had the bragging rights. The longer miles, most undulations, or highest ascent? When all was said and done, all Tuff teams & individuals delivered impressive results. In acknowledging achievements, a big shout out to Jon Roper who was sweeper on the bike out on the course for hours collecting signs. Adrian Oliver marshalling at Kithurst. Paul Martin was there to support wife Karly but contributed well to the Tuff cheer squad. Congratulations to Jason Rae for delivering a first class Covid -minimised race and having been out in the National Park for days before. Everyone celebrated in the sun outdoors at Durrington with a large burger having collected their wooden medal and buff – 2021 anyone? Care when rushing to pick a relay leg though as each year alternates with 2021 starting from Durrington. Having won the Chittenden trophy for the last two years (for overall team) Tone Zone dethroned Tuff Fitty this year. Well deserved as apparently they had been out doing recce's of the course in their determination to snatch the prize this time.
Gavin Sewell recounts his team's race:-
"With a very early start the next day, I was sensible and limited myself to 2 beers on Friday night and was in bed by 10, hoping the rest of my team (Matt Whittaker, Hobbsie and Ade Willard) would be doing the same. I woke at 3.30 and couldn't get back to sleep so got up and looked at the phone. A whats app from Ade greeted me and a very funny drunken photo with Gareth Piggot, sent at 2am. This was not looking good".
"Got to DL Durrington to meet the guys as Matt had kindly volunteered to drive. As me, Matt and Hobbsie waited for Ade, the time ticked away. Lauren dropped him off, it wasn't a pretty sight, I think he could have done with a coffee or 2."
"As Ade explained his shenanigans the night before I think he was pleased he was doing the last leg (more time to recover). We got over to Brighton and registered and it was really good seeing so many Tuffs ready to race. I was on the 1st leg and before we knew it we were off. I started running with Pete Littleboy and we both settled into a lung busting climb up out of the marina and along side the golf course. It was great weather and once that first climb was out the way the views and course were great. Me and Pete ran all the way to Ditchling car park and came in at 1hr26 which I was very pleased with. I gave Hobbsie (the whippet) the covid elbow and he was off. Next stop the foot of Truleigh hill. Hobbsie made good time and came flying down the hill, handed over to Matt (who had the hardest leg).
Onto to Kithurst Car Park via another toilet stop for Ade, who was now sober and ready to go. Matt came in suffering with cramp in both thighs and was glad to send Ade on his way. The last leg I knew well and Ade smashed it. I think our Team was 4th overall and we all said we would do this again. Great event organised by Jason and his team at Southern Multisports. Cracking burger, medal and buff as well. Tempted by the 30 miler next year; better get training."
Gavin
"With so many events being cancelled this year I thought It would be nice and perhaps helpful to say a few words about the the event that was the David Lloyd relay ultra from Southern Multisports. It all started with getting a team together which was done via social media, such is the times we live in, and so with that, I needed to make sure it was safe to do so. With constant emails from the race organiser about the situation, I set about arranging the equipment needed just to participate, which became a epic task. Race day came and required a 4am alarm, so as part of a 4-man team each doing roughly 10miles each, myself with captain Jon B and Olly T and Lee B we all arrived at Brighton Marina start line at sunrise. With more prep than any race or event that I've ever done before, I set off for the 1st leg in the last wave; I was really looking forward to the day and hopefully not letting my team mates down. However I was looking forward a bit to much and within 200 meters I went smack!!! private parts 1st into a metal bollard and I was left picking up the items that had flown out of my backpack on the impact but seeing as I was down there anyway I styled it out albeit with a high pitched voice. Then, with a "don't check em count em" moto, I was on way again and enjoying the scenery, also socially distance chatting, and joking with fellow competitors and the 16k and time passed all too quickly. We reached the handover point in a time of 1h26min and over 1000ft of climbing. I handed the virtual baton over to Olly having loved my part of the run and I had the bruises to prove it. However it was now time to support and cheer my teammates and other competitors in a safe manner.
Pete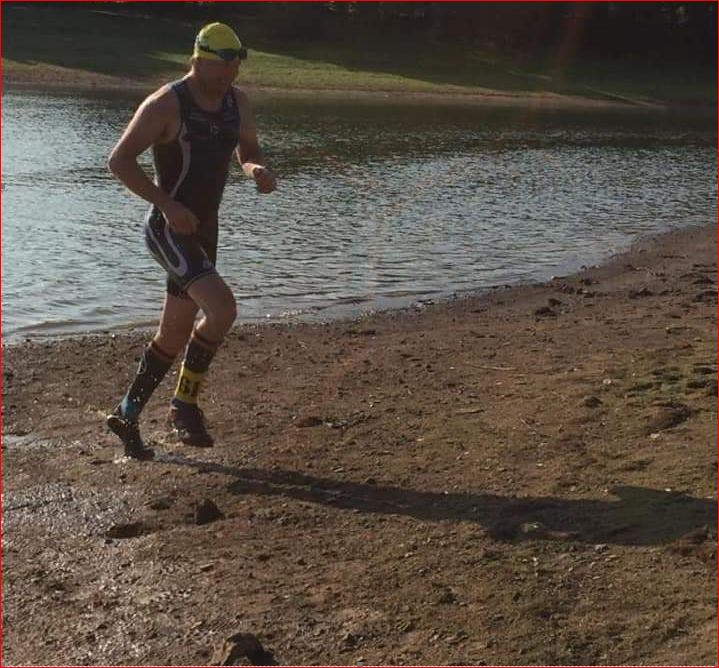 BEWL WATER SWIM RUN
Held at Bewl Water in Kent, where a pair of quality Tuffs were at the start. Excellent news to see Joe Pascoe back on the race scene after a difficult year health wise. He has been an inspiration, racing in 2019 appearing on podiums and here he is, first race back… on the podium. Mark Walford was entering his first ever Swim/Run… and what a debut.
Bewl Water is the banner shot this week, swimming in the glorious September sunshine. For those yet to experience swim run, it is fast and furious. The longest of the run legs was 1,800m with the longest swim being 500 metres. First report is from Joe, with the second one from Mark – Brilliant results.
"SwimRun has been niggling away at me since my SR cherry was popped by Mr. Goddard in 2017. When the chance for a solo 10k came up and it looked possible with the C-word restrictions in place, entering was a no brainer".
"Bewl water made a stunning setting and with 20° forecast I left the wetsuit in the car. The format was something like 7 runs spaced out with 6 swims. It was great to be racing again and the format is really fun. No need for transitions just run in and out."
"In the end finished 3rd, which I was really chuffed with."
Joe
"An unexpected twist of 2020 was seeing Joe Pascoe selling a swimrun wetsuit, rarely do I find things second hand that fit, so I brought it then had to find an event. Joe recommended Bewl and after a very early start, and meeting Joe for the first time whilst doing pre race prep was a good start to the day ".
"Being my first event I chose the 6.5km event, 4 transitions from trail running to lake swim not sure what to expect. I was pleased to find my stride in the 1800m run feeling comfortable, then loved the straight transition into the lake for 400m swim. I came out feeling good but just before entering the second swim, I fell, rolling my ankle. After a bit of swearing and hobbling I got in to swim. Now struggling to run with a limp but quick on the swim, I came out for the final run just aiming to get back without stopping. Much to my surprise I finished in 2nd. Gutted I had hurt my ankle, but loving the event I cant wait to test myself in future swim run. Big thank you to Joe for setting me off on swim runs"
Mark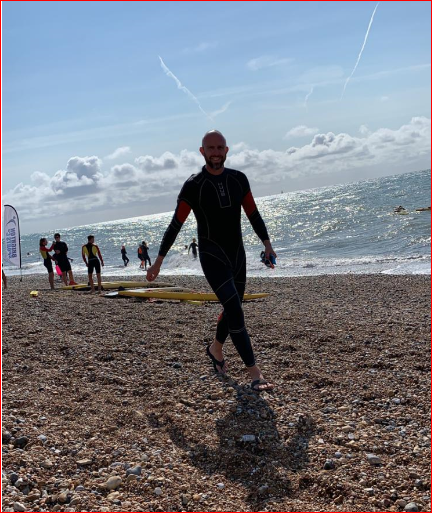 BRIGHTON PIER OPEN WATER SWIM
Next up, another report from Mark Walford who joined in 'Swim around Brighton Pier' on the Saturday, prior to tackling Bewl (above – what a great weekends work). Covid precautions applied even providing his own swim cap. The race started on the East side of the Pier swimming around to the right. Mark reports:-
"Last year I joined Tuffs with intention of improving my swimming, especially in open water. I had a few events that I wanted to do to test this in 2020 and Brighton round the pier swim was one of them. Obviously 2020 has thrown lots of things in the way but delaying the pier swim to September was to my advantage".
"A summer of sea swimming including the Corona Cruising Challenge set me up for the choppy conditions I was presented with on Saturday. 1.2km round Brighton pier was more of a sprint event and more recreational than competitive, but I wanted to see how my summer of training had worked. Well organised and socially distanced along the beach we set off. I tried to keep on the toes of someone in front, but conditions and awful goggle choice made sighting almost impossible, so after a few hundred meters I sighted just to my right keeping the pier in sight. Rounding the top was tough in the conditions then tidal assisted, coming in was a lot easier. Exiting after 19 mins I was very surprised to hear people saying I came in 3rd. Big thank you to Tuffs for a podium place"
Mark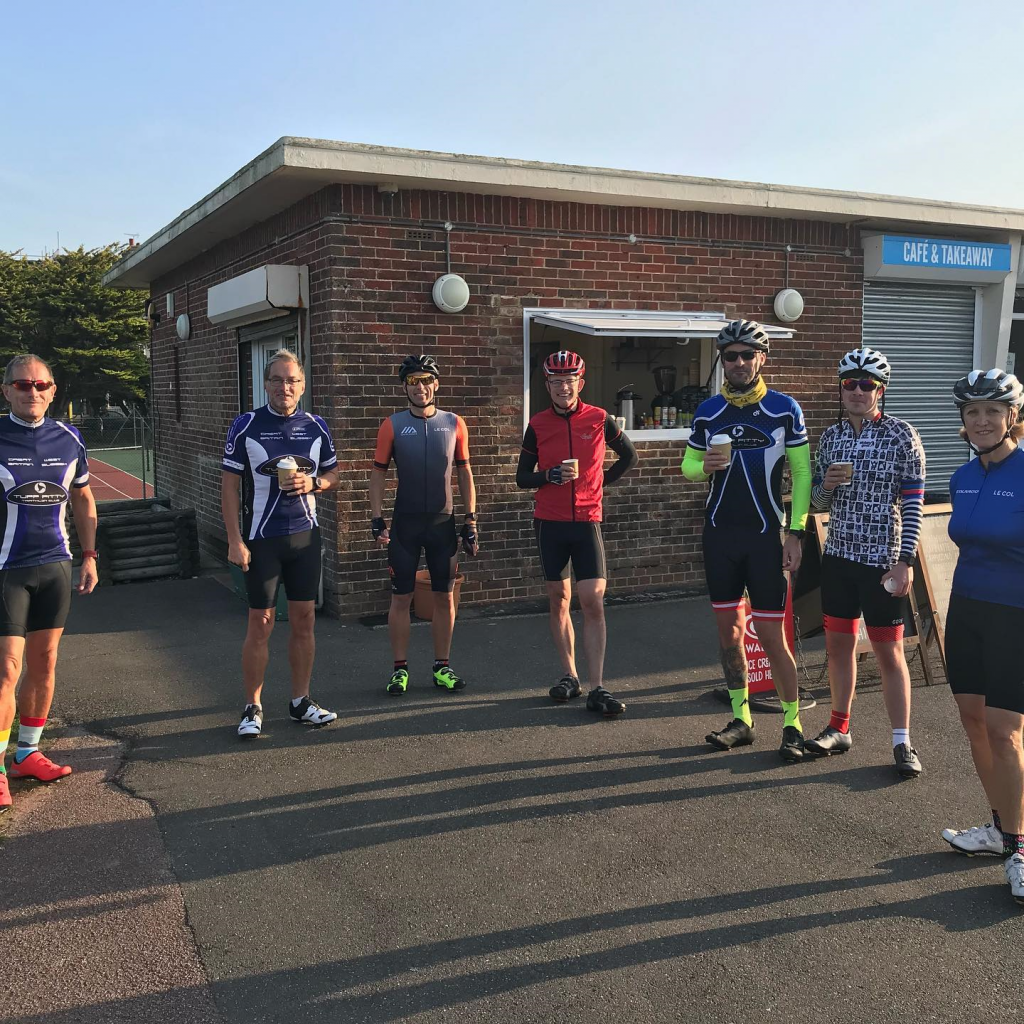 TUFF VELO RIDE
The return of our popular Tuff Velo ride in conjunction with Edgcumbes saw the large Tuff flag flying over Edge By The Sea Cafe in Norfolk Gardens, Littlehampton; a sight that attracted some notice as one person who had undertaken an Aquathlon tentatively asked about our club.
Thanks to Richard Hobbs who organised an early opening with the cafe; bacon roll and coffee proved a popular pre-ride choice before riders embarked on either a 40 mile ride around the back of Goodwood or a shorter 30 miler coming back along the coast at Bognor. In a busy weekend for the club, particular kudos was earnt by the seven riders who had also raced along the South Downs the previous day.
The new, more local, venue proved successful enabling coffee and cake to be consumed post ride in the warm sunshine, whilst those with less time were able to continue home.

KEW GARDENS 10K
Rachel Brunning headed up to London for the Kew Gardens 10k. A sell out event; whilst expensive, runners did cross the line to receive a goody bag and buff and the route, which is billed as 'London's flatest course' was scenic. Rachel reported "Gorgeous race, all inside Kew Gardens. Very well distanced, the field was split into 10 waves over 2 days"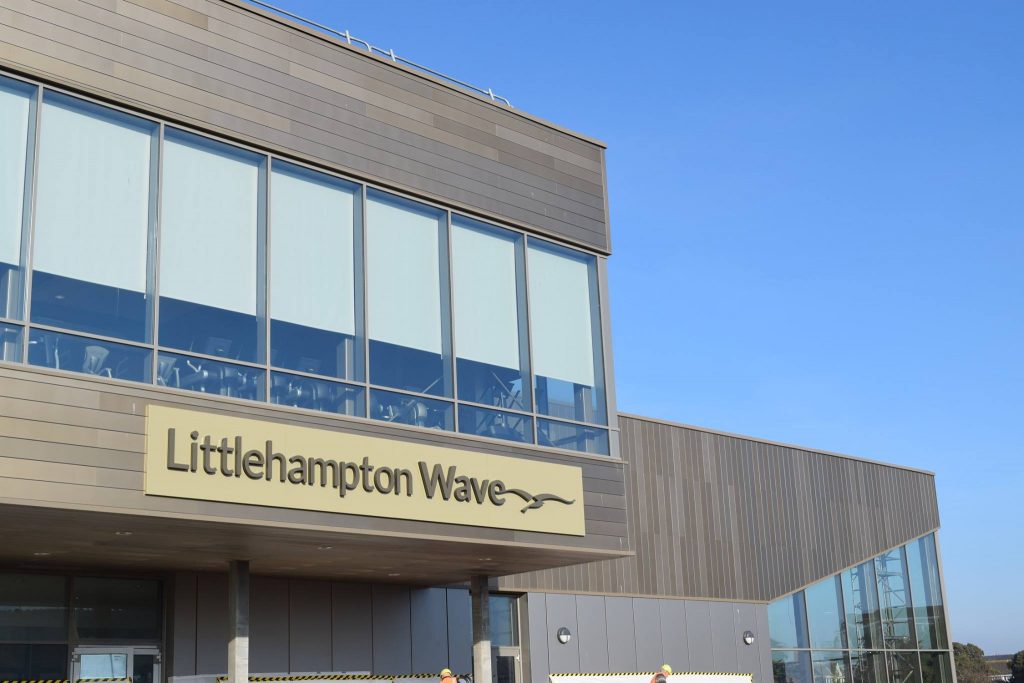 Your committee and coaches are currently checking the latest advice from British Triathlon/Government/The Wave as to our return to indoor Pool swimming. Please check the Tuff Fitty Swimming Facebook page (please apply to join, if not already signed up)