Castle to Coast Middle Distance Triathlon
The Castle to Coast Triathlon sees competitors start with a swim at Dorney Lake just outside Windsor for a 1.2mile swim. Then competitors have a 'short stroll' to transition where they can change and prepare for the cycle. The cycle ride takes the form of a sportive through Berkshire with feed stations along the route, through Surrey and Sussex to the foot of Ditchling Beacon. Having reached Hassocks, a route of 'around 66 miles' competitors drop off their bikes at the Leisure centre, and are then able to use the centre's facilities as they prepare for the run leg. The 14 mile run wasn't going to be easy as from Hassocks, runners had to overcome Ditching Beacon, amongst other undulations, before the descent down to Brighton seafront and Hove Lawns with 80% of the route across trails.
Whilst the organisers state that the event is not a race, it is certainly a test of endurance as our Tuff squad found out. Huge congratulations to our terrific Tuff Ten, Mike Barrett who was the first Tuff home, Adrian Oliver, Verity-Jane Lacey & Ross Court. Leah Simms & Iris Bennett. Ness Green, Claire Moyle, Sheila Bailey & Elaine Rousseau. It is pleasing to have received the story of the (long) day from different perspectives from Mike, Claire, Adrian & Ness below. Oh; you may also read references to the weather conditions!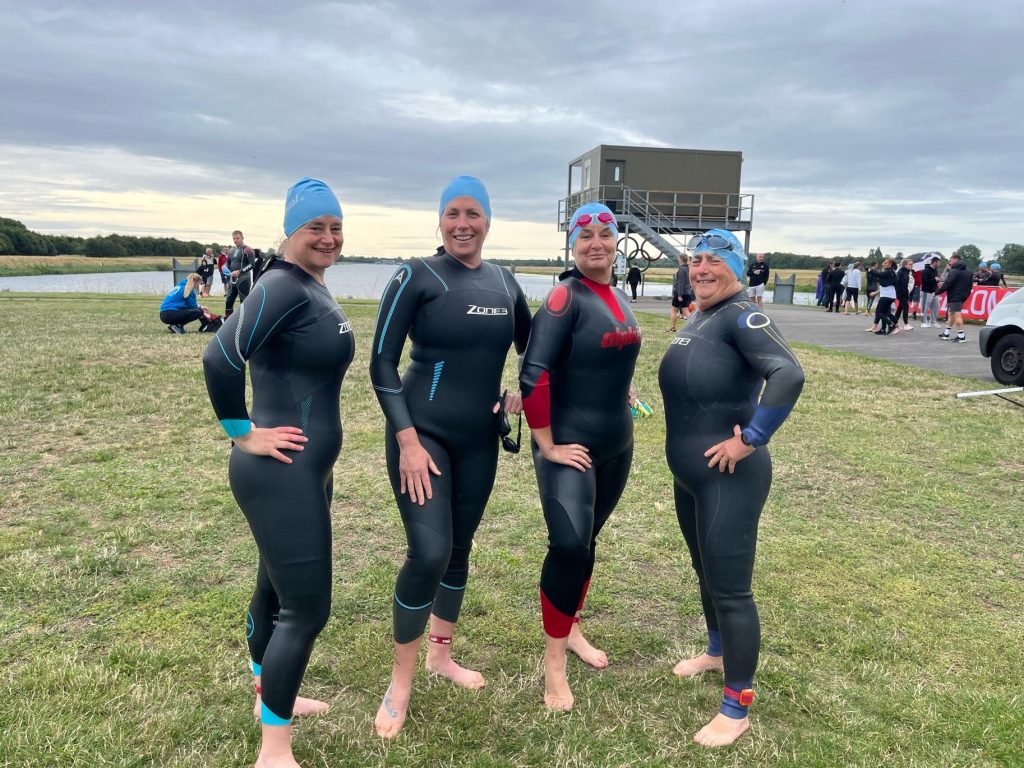 Elaine Rousseau, Ness Green, Sheila Bailey & Claire Moyle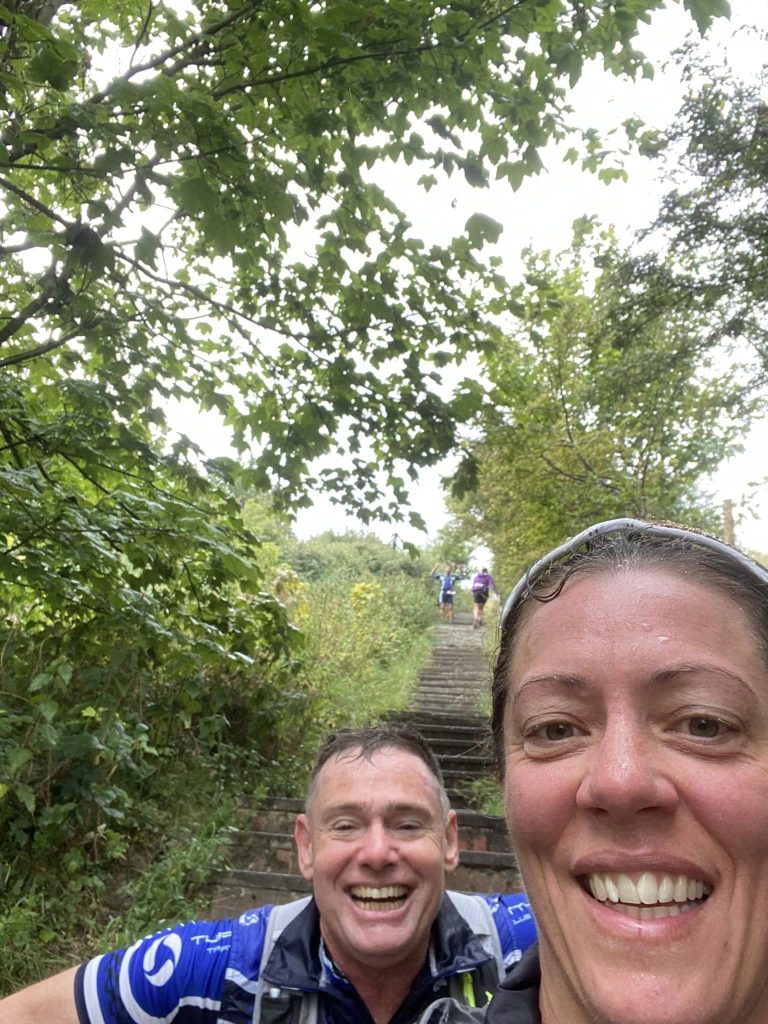 Have we done enough hills yet?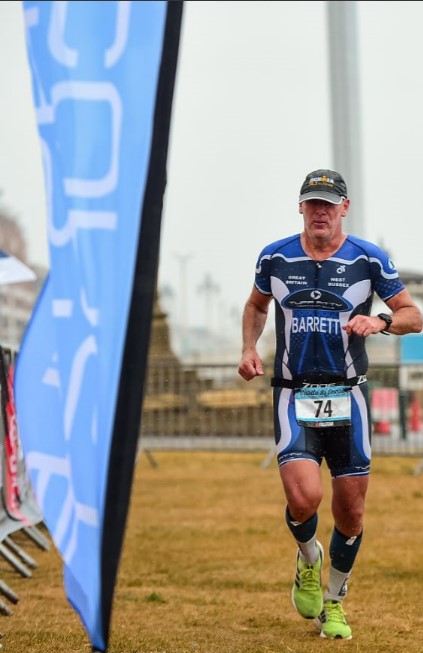 MIKE BARRETT
The lake is, as some have said in past reports of Dorney Lake, pretty epic! It is exposed to the elements but generally the banks protect the water from the wind. A nice little touch is swimming under the bridge to finish where spectators had gathered.
Then to the bike. If you ask any cyclist, what are your worse conditions to ride in? Answer, every time, a headwind with rain. Unfortunately, the course is due South.
We're sent off in an Easterly direction to start which gave a sense of "it's going to be ok". 15 minutes in and we're heading South… it is brutal all the way and to quantify this further, the 6k downhill to T2 went unnoticed because we were having to pedal downhill. Fortunately for me, I managed to get to T2 without getting wet but I know fellow Tuffs got very wet!
A relief to get into T2 and surprised to see so many bags, a sense that I was doing better than I thought, although it's not a race! Out of T2 and I run across a rutted, rock hard, farmers field, out of that and faced with a locked gate, a stile to the left and a directional arrow the other side; I'm in the right place so over the stile we go. Up the hill, this is steep and you have to walk it… and so it continues like this for a large majority of the race, it's not a race! Even though I was now getting absolutely peppered and battered by the wind and now rain… it was absolutely enjoyable.
And to the stairs, which they didn't tell us about! This puts the famous Alcatraz stairs to shame… faced with a long alley, which is slowly elevating in altitude, so steep that you have to walk it, then you see 2 steps, you grab the hand rail, hoist yourself up and turn 45 degrees to the right and then you look up again, smile, because by now I'm so battered from the elements that this is actually fun. You climb these steps literally pulling yourself up the rail, I watched the guy ahead of me doing the same… It was brutal… you pop out at the top somewhere near the race course, suck in the views and then it is pretty much downhill all the way to Whitehawk. I ask, how far and the reply "3 miles" … how can it be 3 miles from here, the pier is just, well sort of, no it's not… I pop out onto the seafront up near the marina. For me, this was the worst part of the day, we are now exposed to the seafront elements and the wind and rain is relentless, combined with tourists and day visitors it's a bruising battle through the crowd. Then in the distance there are two support crew, batons waving… this is such a lift because it's the finish. I cross the line, feeling good and with energy left and a head that had all the mental resolve brutally pushed to the limit.
Whilst out running, I'm chatting with a trail runner just outside Brighton, he asks what we were all doing, when I told him, this morning at 8:15 we were in Dorney Lake, you realise how epic this event really is. Kudos to all who enter!
On reflection, I'm already thinking, I liked this and the whole stairs of doom (aka Jacobs Ladder) it is bang up there in terms of multisport challenges. The ride is tough for sure, I'd say achievable for all Tuffs. It was just made tougher because of the head wind.
I will return. We should all return for this especially to face the Stairs of Doom Castle to Coast challenge. Potential club discount coming, watch this space.
Mike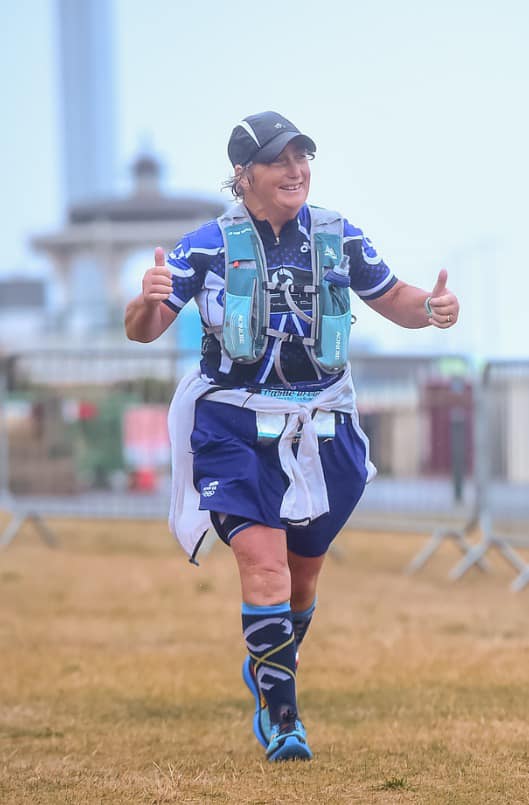 CLAIRE MOYLE
"Well what a way to celebrate the first day of my retirement. I booked this event and was expecting a lovely day heading to the coast but wow what has happened to our summer. It was lovely to have so many Tuffs at this event and a lot of great support from other Tuffs around the course. The swim went well and the water was warm. The bike started dry but as we headed south both the wind and rain increased and just got worse and worse.
The only thing that mattered was staying safe, the feed stations were very welcome and the volunteers were exceptionally cheery considering how wet and cold they must have been. I was very pleased to arrive at Hassocks in one piece and it was great to see my headteacher Phillip ready to join me for the first bit of the run.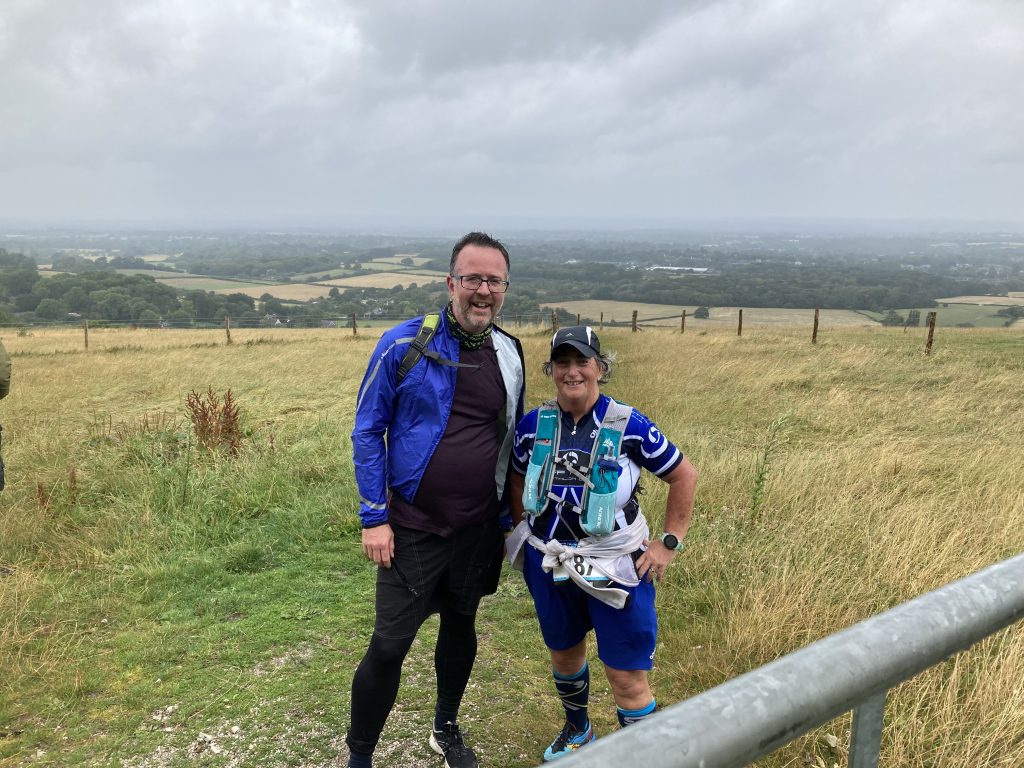 Claire with Phillip
I knew the run was going to be tough as I hadn't done as much training as I had wanted, but with the added wind and rain it became brutal. It was the longest I have ever run and for someone who would not normally run in the rain I was determined I would finish. The worst bit was the 200 steps out of Bevendean that were so steep but knowing that was the last hill was rewarding. The weather kept the people off the seafront which made it easier to find the finish line and it was great to be met by Tuff supporters and a hot meal.
Well organised event would love to do it again but only if the weather is dry!!!
Claire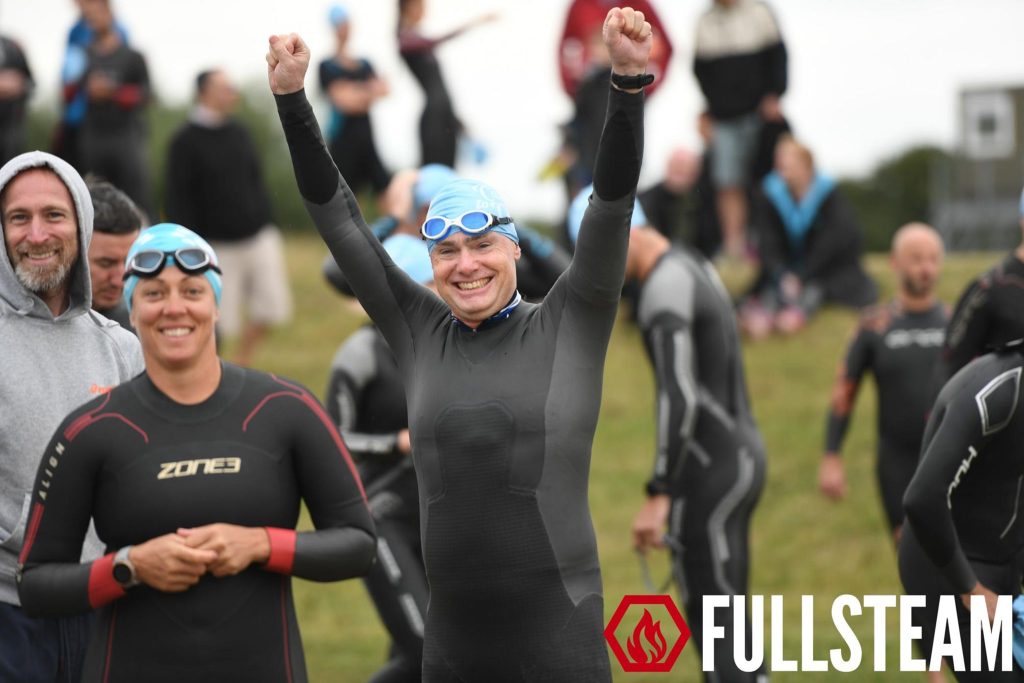 ADRIAN OLIVER
Sussex Cross Country league racing is SO much easier than anything we faced on Saturday – because NON of the hills are anywhere near as insane, the weather is never as bad – and the post-race chocolates are far better!

But I WILL be signing up to do the Castle to Coast again – I loved it and loved the camaraderie that saw each one of us accomplish something extraordinary despite challenging conditions, which saw 1/5 of the yachts competing in the Fastnet sailing race retired on the same day.

This adventure started Friday afternoon with collecting tour-guide Iris to drop my car off in Brighton near the finish, pick up a car rental, going back to Iris' to meet Mike, loading the car up with the bikes and "stuff" before driving up to the Slough Premier Inn. While Iris went off to return the hire car, Mike wasted no time plying me with beer before we went off to the local Pizza Express once Iris returned for our pre-race meal.

Early alarm Saturday morning, DIY breakfast before meeting in reception at 6:30 am ready for the 20-minute cycle to Dorney Lake where we quickly meet up with our fellow Tuffs. Transition bags were packed, T2 and finish line bags were loaded onto the appropriate van, it was time for the 8 am start.

Swimming in the clear waters of Dorney Lake was amazing, cycling through fields of cows towards Windsor Castle, past Thames river cruisers were some of the early highlights. Meeting up with Verity and Ross in Dorking was a lifesaver, having encountered our first hill. As the skies darkened, the headwind picking up, and the heavens opened, Hassocks couldn't come quick enough as we took turns to leading our mini peloton. Finally, T2 – pass our bikes to the correct van to Brighton. Next, "just" 22km to run…sorry, crawl up Ditchling Beacon. 5km in 50 minutes to the 1st feed station meant this would be an even longer day. After raiding all the feed stations, being through sense-of-humour-failure and back, we finally get to Brighton Marina with the last few miles to go, only to be faced with the onslaught of gales, rain, partially dressed beach concertgoers and multiple soaked wedding parties. After what seemed an eternity, we crossed the finish line to receive our medal, T-Shirt, and very much appreciated hot meal. The next challenge – trying to find our now soaking bags, then finding space in the wind-swept gazebo to somehow change into warm and less wet clothing before finding Mike in the nearby hotel (who had already started on the post-race beers).

It was a privilege to spend those 5 hours with Verity and Ross, who, had it not been for Verity's race taper (cycling in the French Alpes), would have left me for dust. However, the honour and admiration must go to our heroes who gave meaning to our club's name, TUFF, who managed this gruelling day alone without anyone at their side encouraging them to continue – I'm not sure I would have been man enough to embark on the final run had I been alone!

Then Sunday morning, having dropped from the 10km to 5km REP Dawn on the Downs, I toddled alongside Jim Brook only to find myself the first person home! A shallow victory as the four swift runners fell victim to the route sabotage.
Adrian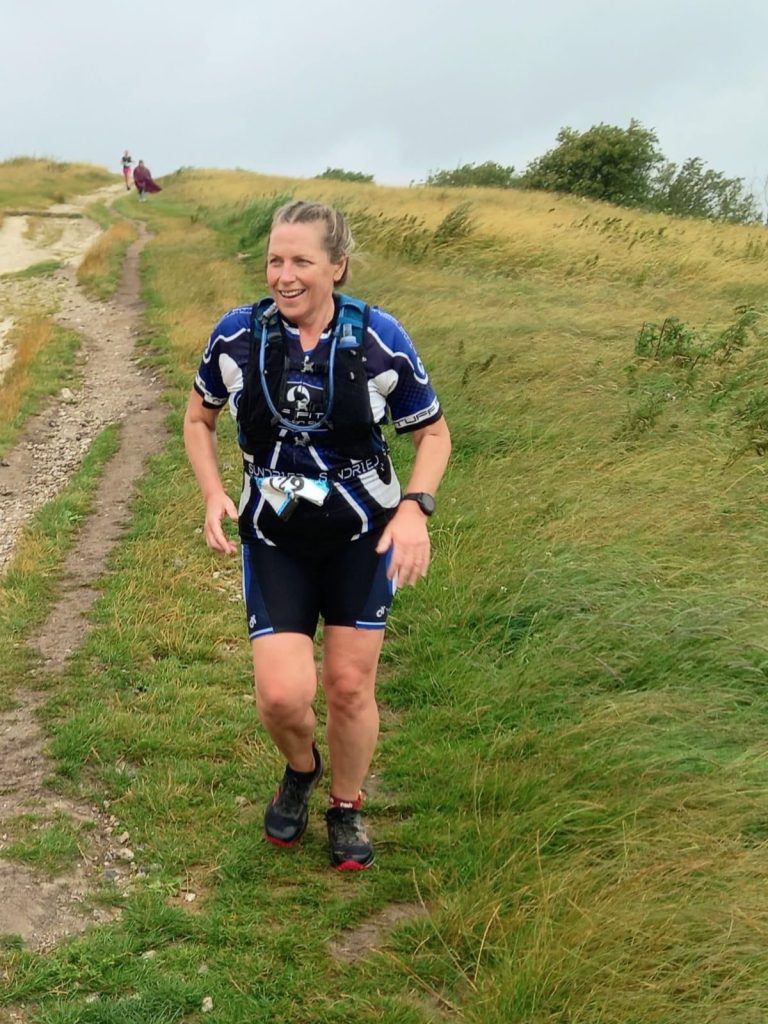 VANESSA GREEN

So Saturday was my first ever middle distance triathlon. I knew I can do all the disciplines it was putting them together and not running out of steam! The forecast for the day wasn't looking great but I had hope I would be towards the end of the ride before the rain started.. sadly that was not the case.😪 The swim was great felt good and was out the water just behind Ross with in 35mins..it was then out on the bike..where I was very quickly taken by Verity and Ross..(must work harder on this one) at around 25miles the rain started.. not light nice rain but hammering driving rain that was being helped by the 30mph winds! This did not let up at all making it a very unpleasant ride.
Having made it to Hassocks for the second transition I was cold and soaked through and sadly hadn't had the sense to pack clean dry clothes apart from socks thanks to Verity! So it was a quick fuel and off I went.. back out into the delightful weather. Leah and Iris passed me by the Jack and Jill and went off into the distance.. thankfully I had met a lady who was the same pace so we ran the final miles together which really helped! After another 3 hours and 20 mins of battering wind and rain I crossed the finish line 10hrs 06. To the best greeting of family friends and Tuffs 💕 It has been the hardest thing I have done to date.. do I feel good though yes.. am I going to sign up to do a full hell yea! 💪
Ness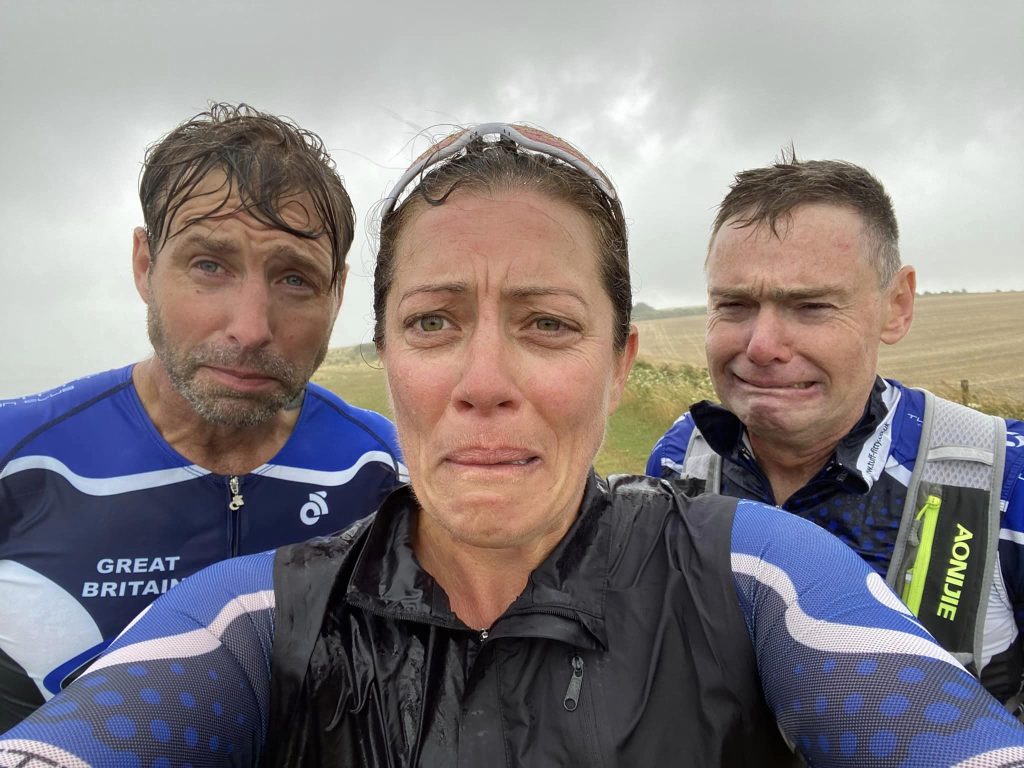 No words!