Europe Triathlon Multisport Championships Menen
Menen, is a city in South West Flanders, Belgium and was the venue for two European Championships. From an opening ceremony on the Thursday, – Friday 25th August saw the Aquathlon and Sunday the Middle Distance Triathlon/Aquabike championships. It was fantastic news that we had Tuff competitors who had qualified and we are proud of – Katie Young & Mark Walford in the Aquathlon and James Mapley in the Middle Distance Triathlon. As well as the European's there were open races with Will King competing in the Aquathlon.
EUROPEAN AQUATHLON CHAMPIONSHIPS
Mark Walford has had a fantastic 2023 season and he finished it in style in the Aquathlon only a few seconds off ninth position. Despite racing in his international kit, he was back in Tuff action at Arundel 10k just two days later – very impressive; and he still had time to report in on his race:-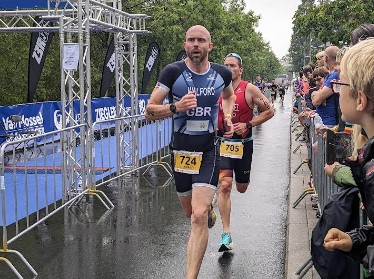 Time to right some wrongs from last year when my run was flat. But this time I decided to make the small trip across the channel to Belgium with the kids. So it became a family trip with a race as a bonus. Having the girls with me made me switch off from any race prep until just before the race. Aquathlons are so much easier to prep for, no hassle of bike in transition.
Having had a year of crazy events either in prep or during, this race was surprisingly straightforward. Minor worries about my breathing and not wanting to use an inhaler as I didn't want to be known as a dope cheat. So I took all pressure off the race and thought what would be, would be.
Just before we started the heavens opened and biblical rain came down, but already in my wetsuit it made no difference but did mean it wasn't baking hot. Getting into the water and I was struck by an eggy smell that wasn't great (fortunately I'm fine but many athletes got ill 🙁 ).
We were given a 1 min warning, then suddenly 'get set and airhorn'. Off I set on a 1km swim, 500m out and back. There was nothing of note to report, but due to recent coaching I kept checking my technique. I didn't want to blow up so went for long strong strokes rather than too quick. Arriving at some steep steps to exit I was moderately stuck behind someone but as soon as I was at ground level I attacked transition. I was shocked to see a previous Aquathlon gold medallist still in transition, I'd obviously had good swim (a new pb 🙂 ).
Out of transition it was 2 1/2 loops on the run course and kids where cheering me on straight away. A few hundred metres in I saw James shouting encouragement, then Will and Katie. 2km in and a burst of speed due to high 5s from the kids, and I was feeling good, I ran past the recent national champ in Aquathlon and I felt fine. I kept a steady pace picking off a few more people. With 500m to go someone from my agegroup went past me, I went with him for a bit but decided I wasn't willing to kill myself for 1 position.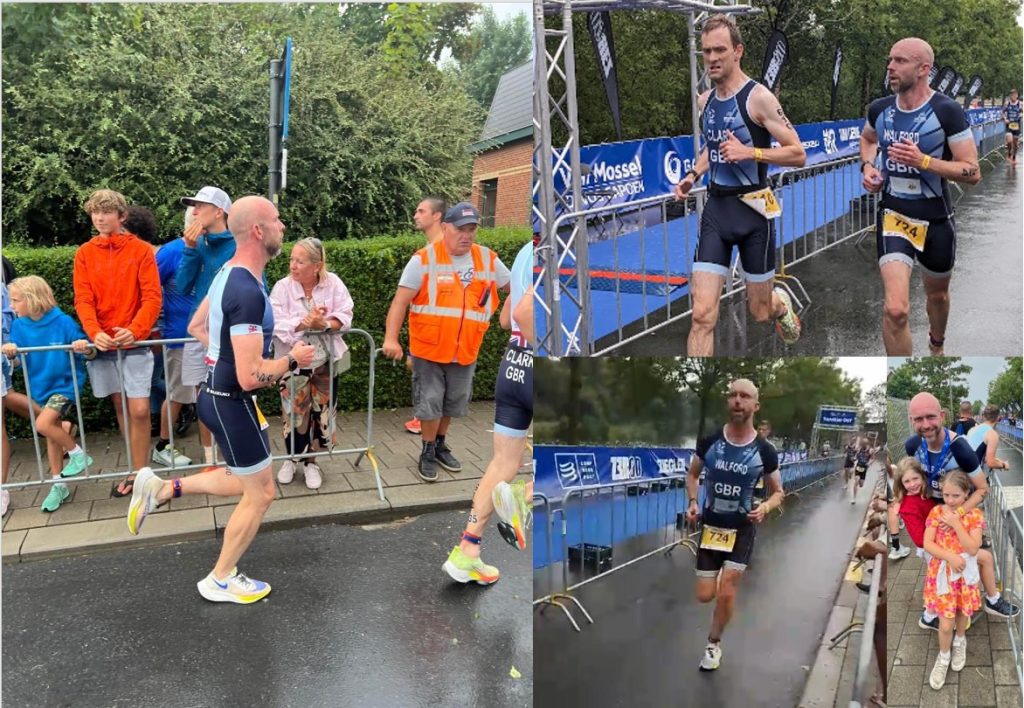 Crossing the line 6 seconds after him I was very surprised to find out we were 9&10th. My best showing in a GB vest. Afterwards I received great big hugs from the kids and then it was onto cheering the rest of Team GB on.
Mark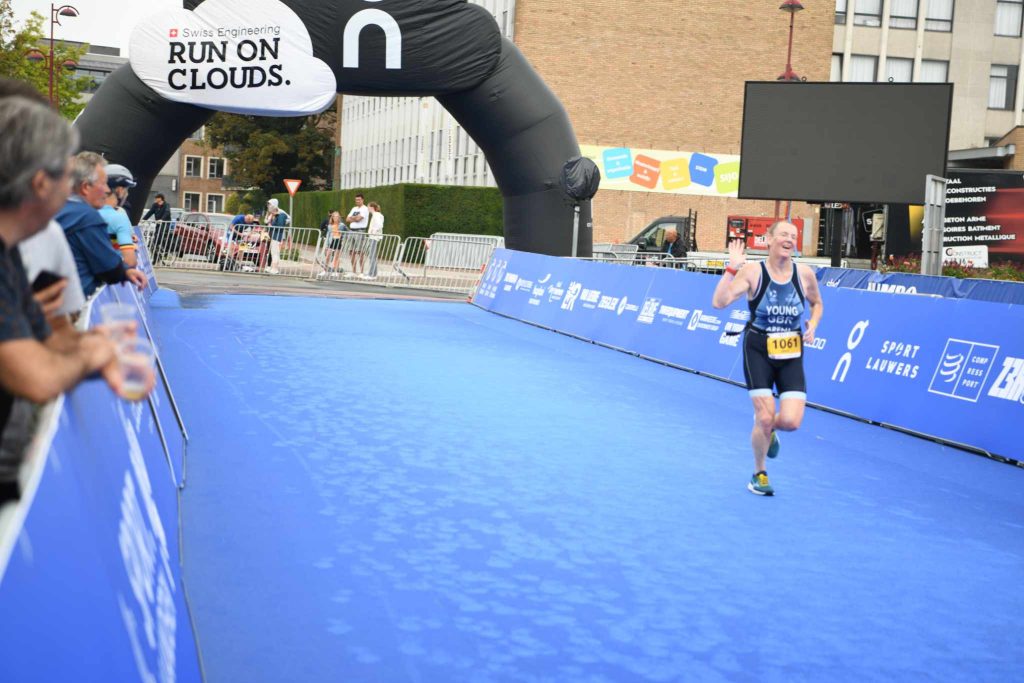 Katie Young was another Tuff racing in the Championship Aquathlon, and Will King started his race in the Open category 2.5 hours later. Two further strong racers and Katie only just missed out on a podium by one minute. Katie and Will collaborated on their report below:-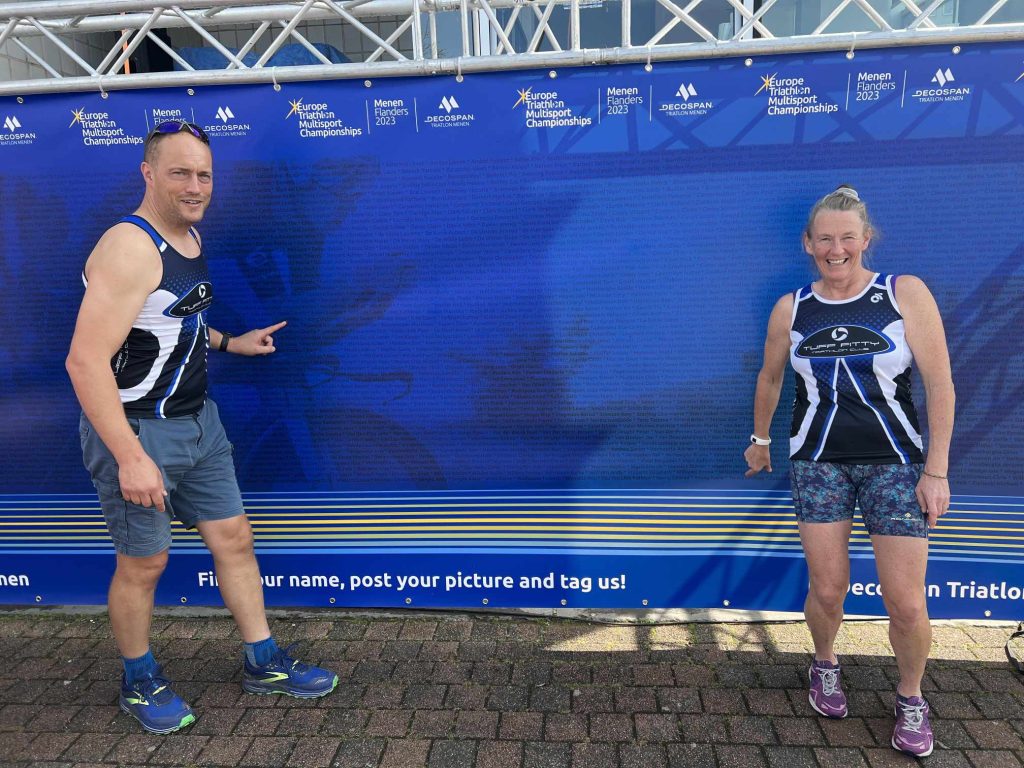 Will & Katie finding their names on the board
After a very straight forward drive. Staying in basic hotel just 4 miles outside of Menen where the event was held. Registration and meeting up with other Team GB personal some who I'd met before in Bilboa and Ibiza and fellow Tuffs, Mark Walford and James Mapley
Discovering local shops in Menen supermarkets not great choice! Race day, weather was very strange it had been very warm day before but then 3 hours of thunder storms in the evening. Race day Sun was shining all morning and cooler, idea conditions. There was still talk of wet suits as temperatures were high. Elites were no wet suits AG was optional. Watched the elites and then cheered on Mark Walford
Transition area prepped then it rained and rained. Shoes soaked (next time put upside down). Put wetsuit on then when called to holding pen decided not to wear wetsuit. Hoping swim being my strong area and no suit would give me a fast transition. Race was in the canal but with 2 other age groups. In water start one hand on pontoon. Swim did not go to plan, was caught in with the younger AG and bashed quite a bit. Having to stop twice after swallowing water.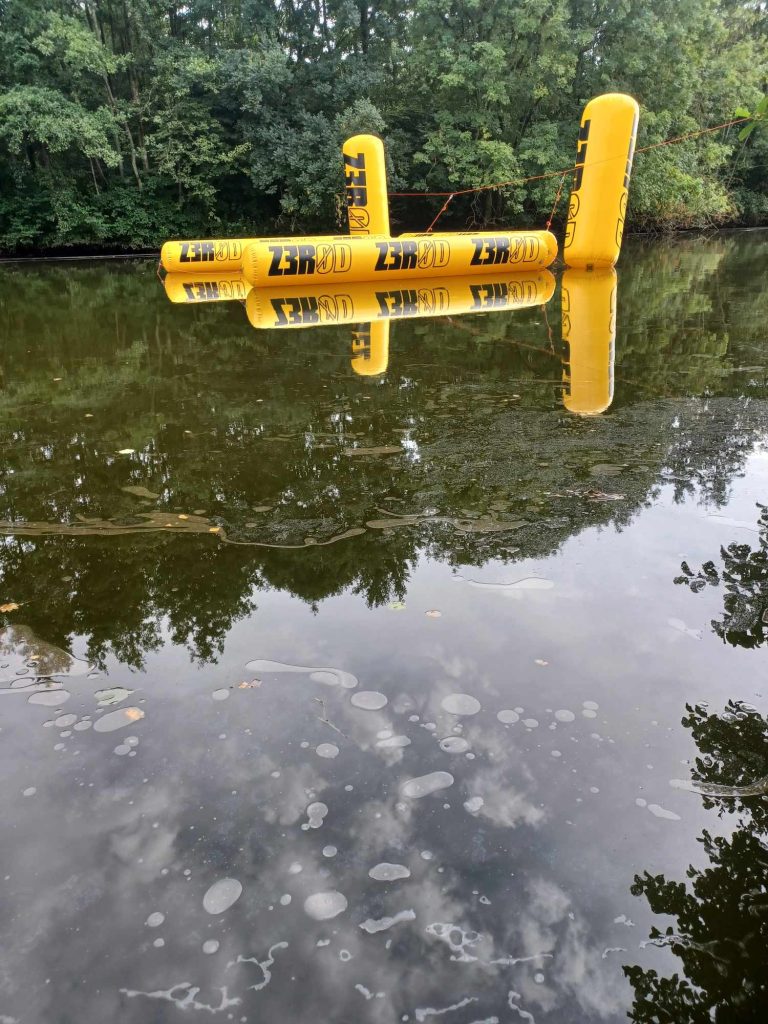 River Leie after the rain!
Came out up steps which were much better than Bilboa. Put my soaked shoes on and headed out on run. (went for the NO SOCKS option) Run was from transition join a 2 lap course 2k through town high street and then to the finish line in the town centre. Finished in 4th so no podium. I will just have to swim faster and run much faster. Back to transition and then watch Will King in the Open event with a local YouTubeer which was a time to review and pick up more racing tips
Katie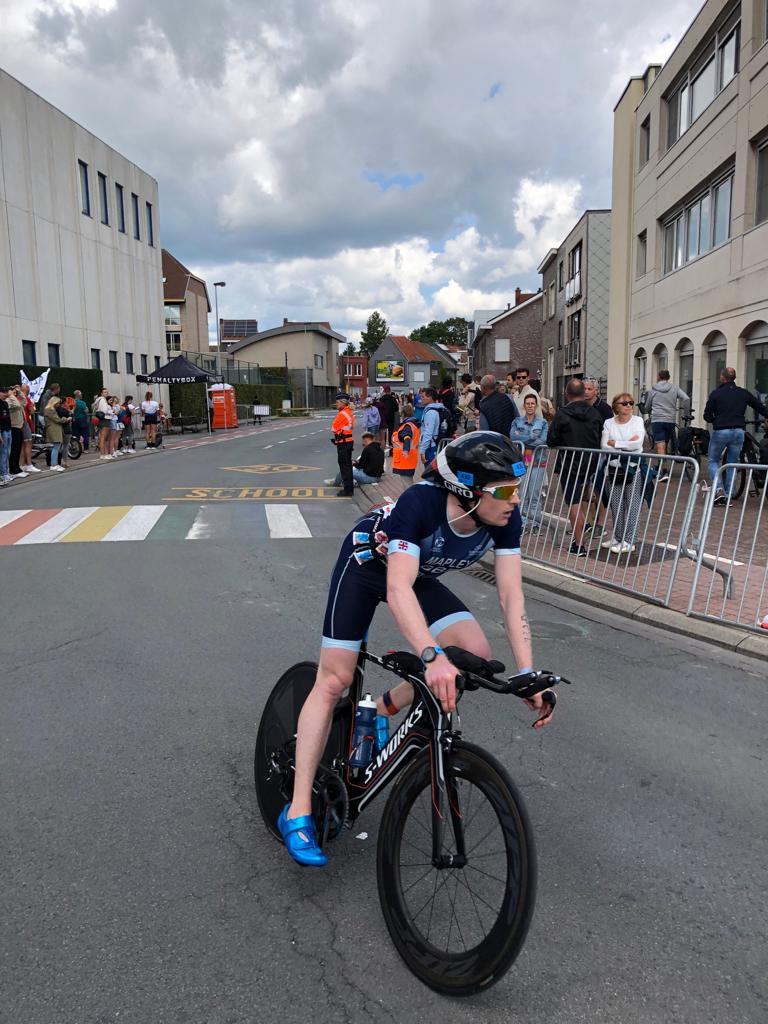 James
EUROPEAN MIDDLE DISTANCE TRIATHLON CHAMPIONSHIPS
Sunday was the turn of the Middle Distance with athletes racing over the 1,900m swim course in the River Leie before the 90km bike and 21km run. James Mapley had qualified for this event and had a storming race. 4.5 hours for a 70.3 is brilliant with James's super strong bike gaining a top ten split. Thanks go to James for reporting in on his race:-
"The town of Menen in Belgium hosted the 2023 European Triathlon Championships between the 25th-27th August. On Friday, I enjoyed cheering on our fellow Tuffs, Mark Walford, Katie Young and Will King in the Aquathlon. All three did incredibly well and the atmosphere was excellent, with lots of crowd support.
On Sunday, I raced in the middle-distance event. We had perfect conditions for the race with intermittent sunshine all day. The swim was a rolling start shortly after the professionals, in the river Leie which crosses the border into France. I had a good swim and felt as though i paced it well, with a moderate current on the final return leg making for a tougher finish.
Into T1, my transition was relatively swift with some minor faffing adjusting to the 'bag and peg' format. For the bike, after some 4 miles winding round the town, we headed out to the rest of the course on some immaculate Belgium tarmac and arrow straight roads. I tried to keep my power consistent and not to burn too many matches. The sections through the town were epic, with crowds lining the route all the way round. I certainly lost a bit of energy in the last 8 miles of the bike but held on into T2 and out onto the run.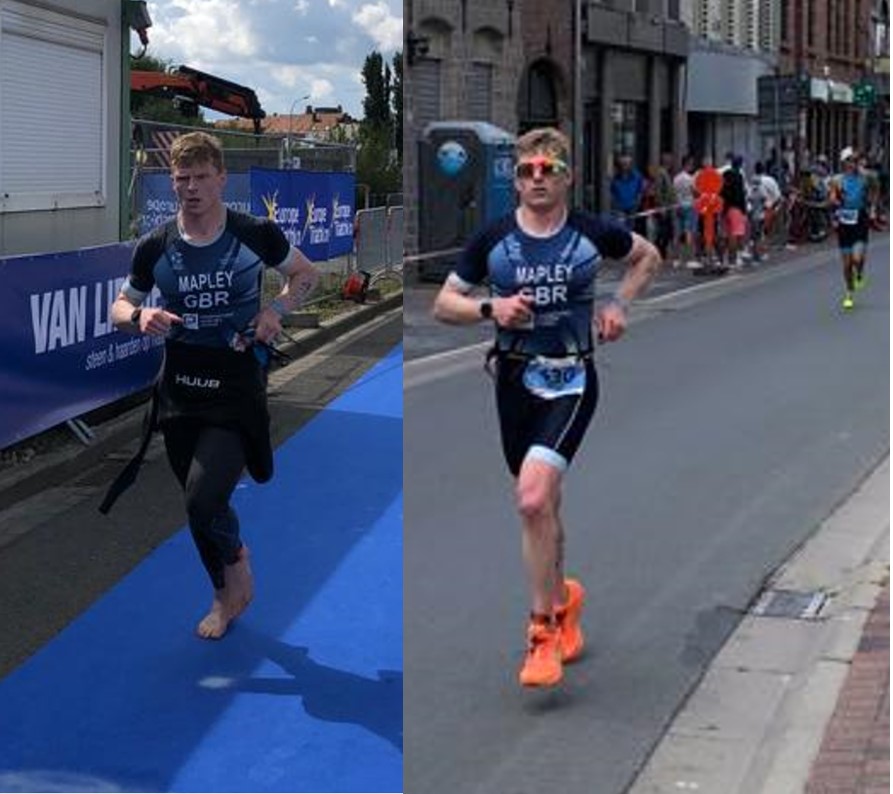 Our route comprised three loops of 7km around the town which was good for the supporters. It was a tough run after 5 miles and the legs were weary. I did have to have a couple of conversations with myself! I was very pleased to cross in the line in 4h29m55s.
Overall I was very pleased. I had hoped to go quicker on the run, but I gave it everything on the day. 2nd Brit and 13th in Age group. Thank you to all the Tuffs who have sent messages of support. It was a fantastic event. I'm looking forward to having a few weeks off now!"
James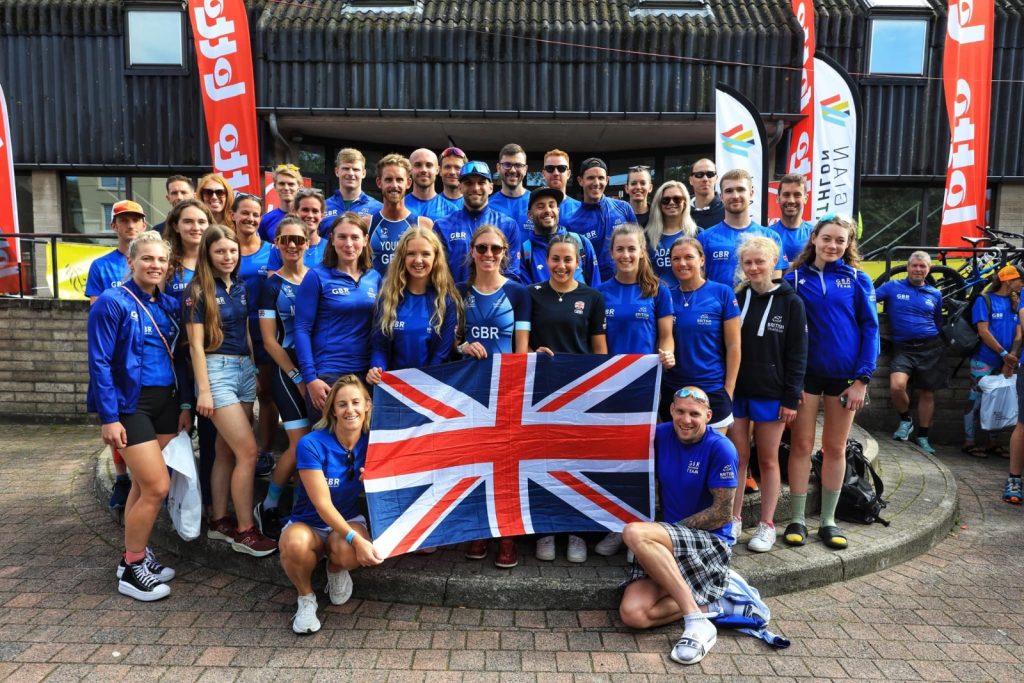 Team GB's Middle Distance squad