With lots of Tuff participation at Steyning Tri, the event justifies a separate entry, with the rest of the weekend's action to follow separately.
Whilst many Tuffs are steadily building up to their long course races, there was still an abundance of club members at Steyning Tri. The recent downturn in the weather and the 6am start didn't put people off and 24 club members competed.
It is always pleasing to see club members do well in the results table but equally satisfying is Tuff Fitty playing its part in helping members to achieve their goals. To this end it was was gratifying to see Steve Bridgeman complete his first Triathlon in the Standard distance and Phil Scales & Adrian Oliver their first ever Triathlon in the Sprint distance.
STANDARD TRIATHLON
First off was the Standard distance event on the dot of 6am and as the swimming pool doors opened the inward flow of bitterly cold air produced a mist over the pool's warm water. The course comprised 800m swim, with a 35.1k cycle along the A283 to Washington. From there it was down to Findon/Ashington on the A24 before a route down to Bramber and back to Steyning. Then it was out for an 8k run.
First Tuff home was Alex Webb, just going over the 2 hour mark by 1 second. Pete Littleboy was next having bagged an early time slot and was first out of the pool. Simon Thistlethwaite & then Stephen O'Donnell who is building up to his trip to the ITU European Championship in Kazan; Russia in late July. There was a great result from Karen McGrath who came home second in her age group. Fabulous to see James Brock returning strongly and then Steve Bridgeman to see all 7 safely home.
Pleasing to report we have two reports sent in over this distance. Firstly from James Brook and then Pete Littleboy:-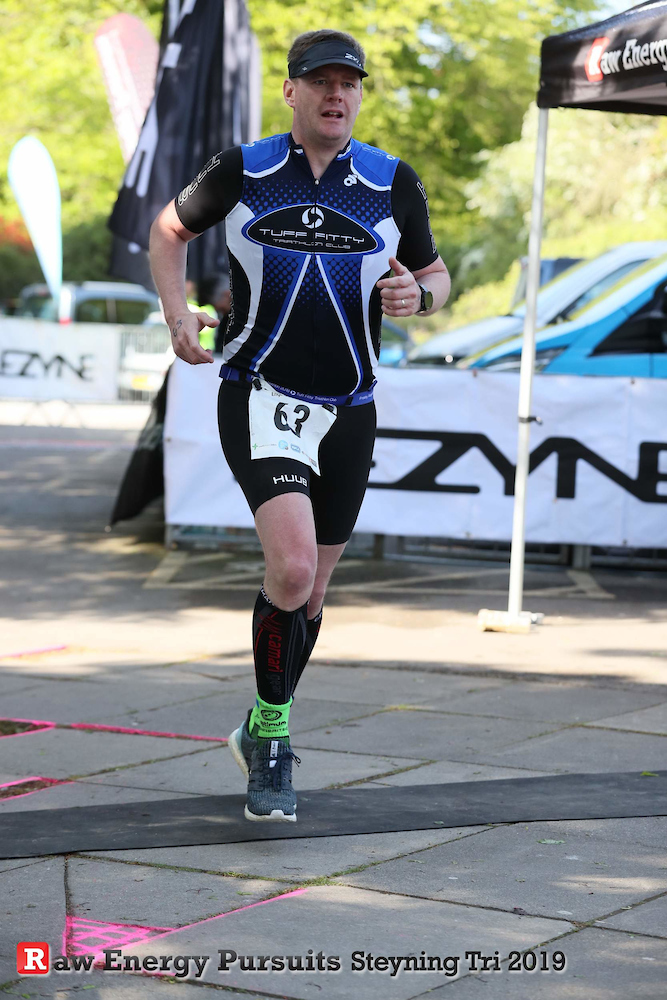 "Not a great nights sleep, woke up every hour on the hour. Think I'm paranoid that I'm not going to hear my 17 alarms that I had set."
"Surprised to find ice on the windscreen and thought "it's going to be cold getting out of the pool"
"Arrived at Steyning greeted by the lovely Grant Smalley & Simon 'fingers' Thistlethwaite. It's always reassuring seeing familiar faces. (Another reason I love being a Tuff) racked the bike after a warm greeting from Jon Roper (bloody nice bloke) and made my way to the pool. Again; the lovely Harvey Brothers, Tiff, Shaz & Olly Sampson were in the pool. A very professional team! I lined up with my fellow Tuffs & friendly banter settled the pre race nerves."
"The swim went swimmingly. Jumped out the pool and spent a very long time getting layered up before heading out on the bike. The course was fine but it took me a long time to warm up. Anyway I made it round and out onto the run course. I had not prepared myself for the hills but told myself to stick at 10min miles & it will be fine. The plan worked & I crossed the line in 2:31:51. I was very pleased with that given my limited training!"
"My mum & nephew Jacob were there to support & as always I'm eternally grateful to them both."
"Well done to all. A great mornings racing!"
Jimbo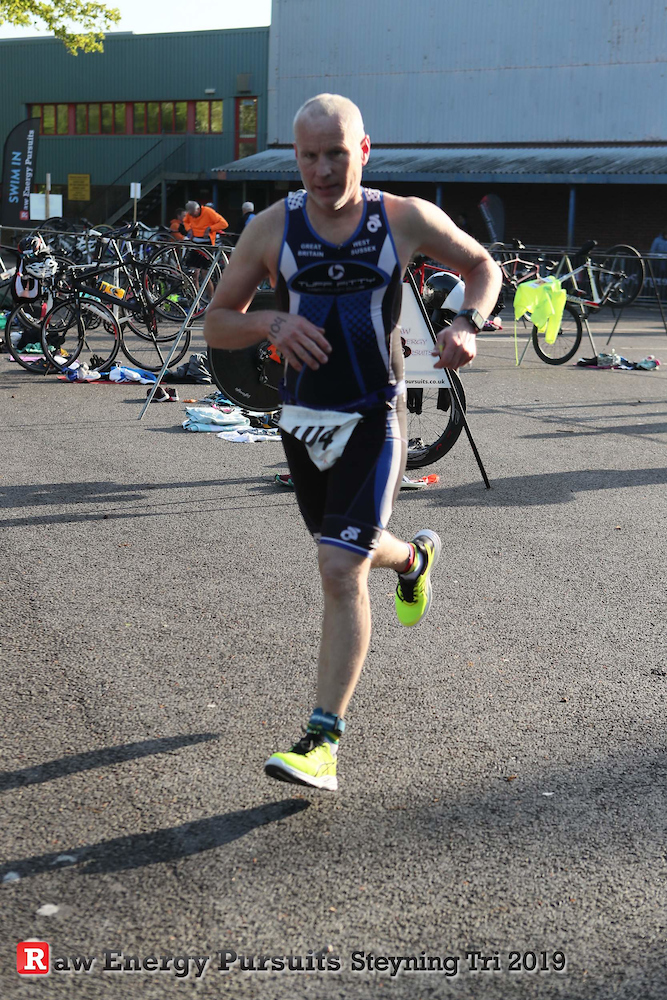 "So with a 4:30am alarm I set off for the Raw Energy Steyning standard triathlon and I personally love this event as it's the 1st on the calendar and now 'I am a triathlete 2019'. So with the car already loaded from the night before, as I had to check in and be poolside by 5.55, I set off with the frost light gleaming on the car dashboard leading the way giving many doubts. However meeting up with fellow Tuff's marshalling and competing I soon forgot about that & I was off in the 1st wave and 1st out of the 800m warm pool swim. As it was so very early on the bike I got ice cream head which went away and then slowly lost the feeling in my fingers and toes so I knew the bike wasn't going to be my best. However with nobody passing me apart from cars and TT bikes from another event I still arrived back from the 35k ride in 1h 09, slower than previous years but I knew my run would be good. I started to doubt that when I couldn't feel my fingers and I struggled in T2, but with the sun now out, I warmed up early on the run and felt good again so a 36min 8k run brought me home in 2h02. This was not only a pb but 1st competitor home by default. The upside was that I was home by 9am feeling smug, and reflecting with a cuppa wearing my winners t shirt, at what a good event this is and a great club we belong to
Official triathlete Peter
SPRINT TRIATHLON
At 8am it was the turn of the Sprint competitors, with 17 Tuffs amongst these. The course comprised a 400m swim, 18.5k bike followed by a 4.6km run.
Andy Crawford maintained his good recent form as first Tuff home with a particularly strong run split of 17:44. Overall his time matched last years exactly 58:28 but he rose up from 15th to 11th overall. Steve Woodbridge was next with the fastest Tuff bike split. Tom Gray was next home, improving his time from last year but time comparisons highlighted how the cold conditions this year appeared to have an impact. David March next followed by one of our newer members Ross Court. A strong result from him with the second quickest Tuff swim split. Francesca Mortell was our first Tuff lady followed by Adrian Oliver. Juliette Reader was next securing the fastest Tuff swim split, and then Phil Scales finishing just 1 second behind. Tony Pearce, Verity-Jane Lacey, and good to see Ian Moore on the Tri comeback trail straight after his marathon last weekend. Sue Neilson, Wendy Frost, Nicole Ewer, & Jenny Oliver ensured there was a steady stream of Tuff kit crossing the line. It was fabulous to see one of our greatest supporters back on the race scene – Gary Edge and he picks up the tale of his Steyning comeback:-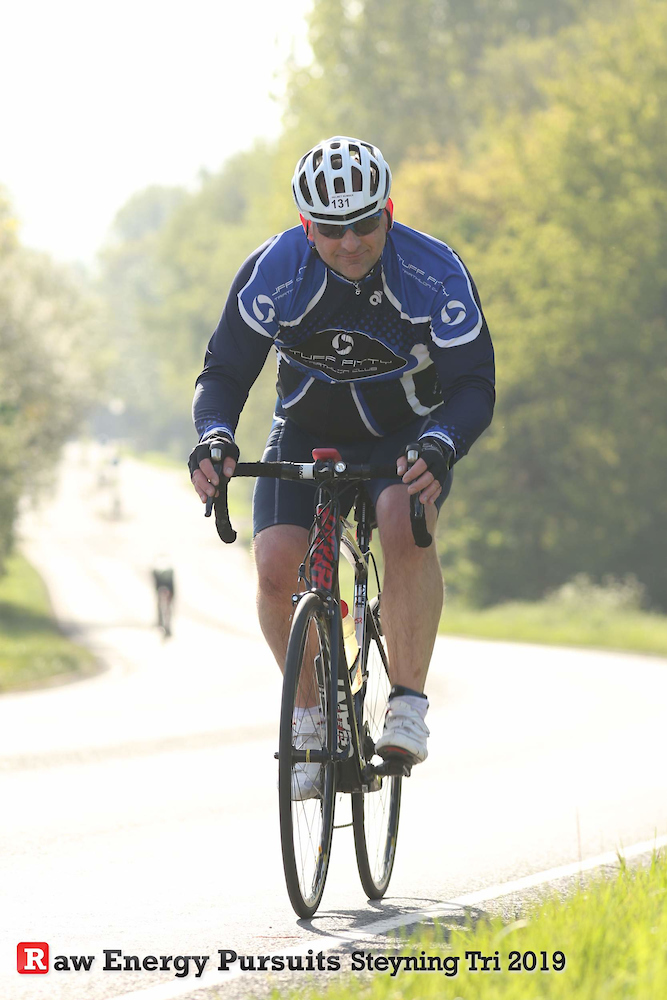 STEYNING SPRINT TRIATHLON -AKA HOW NOT TO DO IT!
"It's been exactly 10 years since my first ever Triathlon (which just happened to be Steyning) and I suddenly had this mad impulse to make an Anniversary return! With less than a week to go before the event, I logged onto the REP website, paid my pennies and I was in! "
"You could say my preparation for the event wasn't ideal. 1 x 500m swim session and 2 bike rides in the last few months to be exact. Although still slow, at least I'd been running a bit lately so I knew that part was hopefully covered. No time for "brick" sessions but with a quick transition practise in my back garden the day before I was "ready". With a holiday booked to depart 2 days after the event I was under strict instructions from the wife "whatever you do, don't hurt yourself". So my plan now was simple…take everything very easy and smile for the camera's! "
"The big day arrived. I laid my kit out in transition and unbelievably I remembered everything (plus some spares). With good lucks from CPL, Nic and Fives I made my way to the pool (after twice visiting the little boys room…yes I was a tad nervous) 10 minutes to go and I realised I hadn't had my planned top up gel..It was back with my bike, oh well, too late now".
"Standing in the queue Tiff, Sharon and both Harvey's came up and wished me well (thanks guys, it was much appreciated) and then it was time to start. Tiff as my lane counter was a bit of a blessing..She knows I'm a shite swimmer and like a bit of banter so I thought I'd play on this a bit. With a 3-2-1 GO! I was off…Now I should point out here that wind up bathroom ducks have more forward propulsion than I do, and certainly more buoyancy. The first 25m I thought "I've got this"..Until I went to touch the wall at the 50m mark and missed it…by 2 feet! With the Cheshire cat grin on her face Tiff obviously found this hilarious and I took the chance for a breather. Yep..That's right,50m and I stopped..for the first time. The rest of the swim was stopping every now and again, avoiding the faster competitors (i.e. All of them) and exchanging pleasantries with Tiff, spectators, and other swimmers queuing to start, even Sharon came over for a conversation at one stage. All very social "
"Exiting the pool was a bit of a shock…it was b****y freezing! What comes next, oh yes, a nice little amble into T1, then find my bike, socks on, shoes on, number belt on, jersey on, helmet on, then glasses and finally gloves..Yes gloves, I'm a wimp! Out on the bike course and the cold really hit with my legs going WTF is happening here! Climbing the first "undulation" on the A283 I spotted a cameraman..brain kicks in.."Look like you know what you're doing and smile". Not sure if it worked but at least I tried. Settling into an easy rhythm with the words "don't hurt yourself" and "FFS remember there's a 5k to do yet" the ride was pretty uneventful. I actually passed a couple of people thinking, this isn't so slow, then got passed by blokes on serious TT bikes going warp factor 10 which brought me right back to reality. Approaching the Bramber turn all I hear is "Uber, Uber" and there's Dave Lardy Priest with what I hope is his camera out! "See you on the run" is what comes next as I start back towards Steyning. Approaching T2 I perform what can only be described as the slowest and most deliberate dismount from the bike ever…at exactly the same time as another rider does the same next to me. The following "after you" "no" "after you" was like a comedy sketch and definitely made us both smile. T2 went fine and this just left the run. This is where the joking stopped…for a while at least. 100m in and both calves cramped up! Although I had been determined not to put myself under any pressure I was devastated thinking my event was over. Decided to stretch a little and see if I could walk it off. Gradually it subsided and I managed to break into something you could call an actual run, well a slow one anyway. Down Clays lane and turning the corner into Maudlin Lane and there's Mr Priest again with a "nice one lard" and a massive smile. Thanks fella, it really did help. Think he gets the hint pretty quick I cannot run and talk at the same time though so he leaves me to it just as I hit the short sharp part of the road. Plan was always to walk this bit, it's too steep for this lard, and once at the top it was back to running. The rest of the course was basically a mix of counting down the distance to the finish and praying the calve cramps didn't return. Up the final hill and turn into the finish it was "check your tops zipped up and smile" Crossing the line and hoping the pics were finished I'd just bent over to catch my breath when someone's suddenly at my feet undoing my timing chip, at the same time I'm having a cup of water thrust in one hand and some protein balls in the other. I must admit it all came as a bit of a shock and hopefully I remained reasonably courteous."
"I'd like to thank everyone for the encouragement before, during and after the event, including the comments on both Strava and Facebook. I won't name names as I'd be embarrassed if I forgot anybody but you all know who you are."
"See you in 10 years for my next one!"
McLard
A few shots for the Tuff album although the Standard athletes had long since gone to warm up before the editor could snap them at the finish.
<
>